Free Fire Max Diwali Event 2023: On the occasion of Diwali free fire has introduced various events. Free fire fans are buzzing with excitement after getting the official updates of Diwali events. These events will get you exciting rewards, free gifts, in game items and much more. In this post we will know about the two Diwali events which are most important and full of fun events. Free Fire Max Diwali Event 2023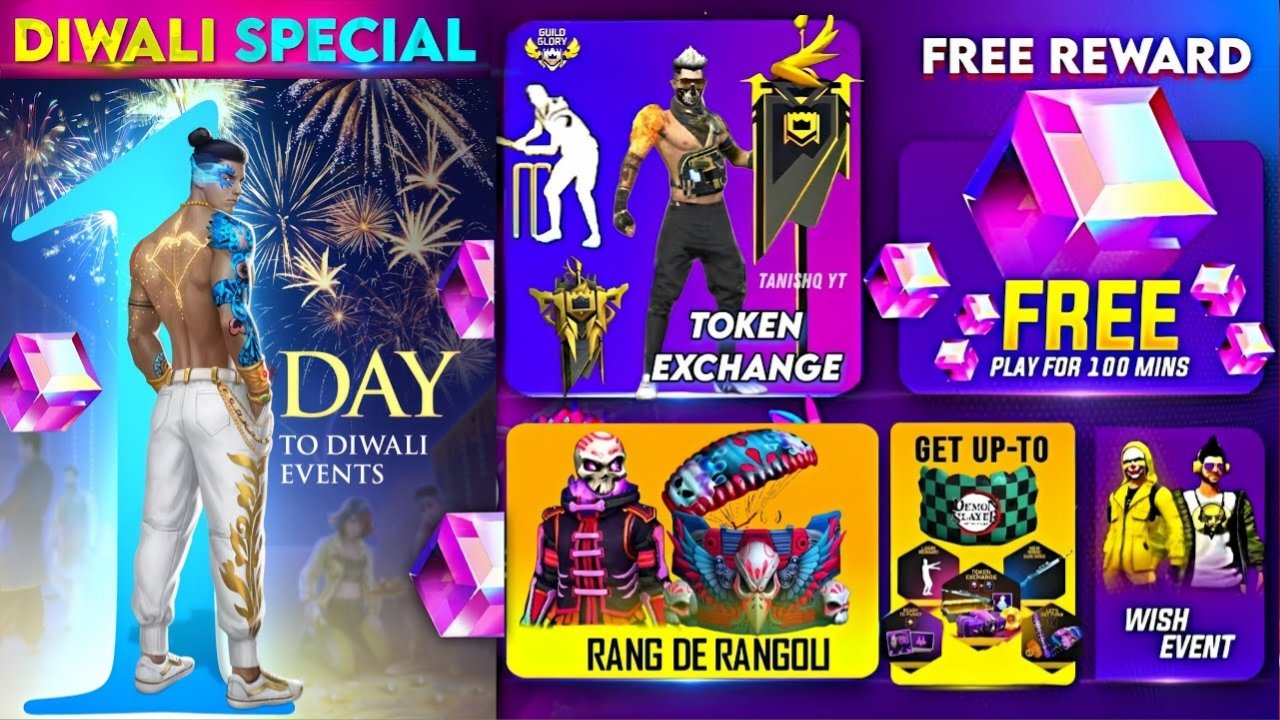 There are two events which are totally based on the diwali occasion magic cube event and divine warrior bundle event. Let's get all the necessary information about both the events. This event has captured the attention of players worldwide. Free Fire Max Diwali Event 2023
What is the Magic Cube Event?
The Magic Cube Event is a limited-time event in Free Fire that allows players to obtain exclusive in-game items, such as character skins, weapon skins, and other cosmetic items. The main motive of this event is the Magic Cube. It is a unique item that can be used to redeem these exclusive rewards. Free Fire Max Diwali Event 2023
How does the Magic Cube Event work?
The magic cube event will start on 10th november2023 and end on 13th november 2023.
In the ongoing event players can grab the cubes in several ways, buying them with real money, buying them with in-game currency, by completing missions in the event, by participating in the event.
Using Magic Cubes: Once you have Magic Cubes, you can use them to open the Magic Cube interface. Here, you will find a selection of exclusive items that you can redeem using your Magic Cubes.
The magic cubes offer you a chance for item redemption, you just need to choose an item from the magic cube interface and simply redeem it with the magic cubes you have collected from the event.
Once you redeem the cube and grab the item you desired you get a chance to spin the same cube. Spinning cube process will get you additional items or in-game currencies.
You can only redeem or spin the cubes in the duration of an ongoing event. Once the event duration ends up cubes will be of no use.
Magic cube event gives an opportunity to grab the cosmetic items that are not usually available in the in game store.  Free Fire Max Diwali Event 2023
Also Read
What is the Divine warrior bundle event?
Free Fire, the popular battle Royale game, continuously introduces exciting events and features to keep players engaged and entertained. One such event that has gained attention among players is the Divine Warrior Bundle Event. Which is going to start soon on the occasion of Diwali.  Free Fire Max Diwali Event 2023
The Divine Warrior Bundle Event is a limited-time event in Free Fire designed to provide players with an opportunity to acquire unique in-game items, particularly the Divine Warrior Bundle, which includes exclusive character skins and other cosmetic items. Free Fire Max Diwali Event 2023
How does divine warrior bundle works?
In the history of garena free fire divine warrior bundles have never been for such a long period. For the first time these events will last for 15 days, from 1st november to 16 november.
These events provide you with the exclusive character skin for free. Every time these skins offer players with different types of designs based on various themes.
To grab the divine warrior bundle first players need to complete missions advised in the game. Such as defeating the opponents, playing a certain number of matches, claiming particular in-game items etc.
Most of the time it is seen that these events ask players to complete the given tasks in the game to acquire in-game currency and these currency can be later used to unlock various in-game items.  Free Fire Max Diwali Event 2023